*Not including the live action reboots or Marvel films. Or Mary Poppins because I have not watched it.
Disney has firmly made its stamp on the animation game, even when being overshadowed by Pixar in originality, storytelling, quality of animation etc. and facing solid competition from DreamWorks. There was a a time particularly in the 2000s that there were a fair few live action Disney films being put out. Nowadays Disney have found a new money making scheme of going through their animated classics catalogue and giving them a live action re-imagining, upcoming ones include Aladdin, Mulan and Lion King. One day they'll get desperate enough to reboot Treasure Planet and Brother Bear.
I was feeling nostalgic so I wanted to list five live action Disney works that I liked.
5. Remember the Titans
I didn't realise this was a Disney film until after I watched. This is probably the most serious Disney film I've ever seen as it follows a American football coach trying to train high school team amidst racial tensions. As a person who HATES SPORTS WITH A FIERY PASSION I have a weird penchant for sports films. Remember the Titans follows a tough coach who tries to bring a team together to win a trophy or something (I really do hate sports) but it's always inspiring to see a group overcome their differences to achieve a common goal. Sports is for everybody, just not me. Also this film has Denzel Washington which is always a plus.
4. Enchanted
We may be bending the rules here a bit as some of this film is animated. This is the closest to Shrek that Disney has gotten, with Shrek poking fun at fairy tales, here Disney is poking fun at themselves. What I consider makes a good parody is that while the film does have jokes about the subject it is parodying, it also has it's own story that keeps the film from being just a gag after another, this is what made Shrek and Shaun of the Dead work. Enchanted follows princess Giselle who is transported from the land of Andalasia to New York and tries to be reunited with her prince. Giselle is then given a reality check, as she realises she can't marry a man she's known for a day (Frozen was not the first to point this out) as do other princess in previous Disney flicks. Enchanted has a great premise, well developed characters and bearable songs. It really doesn't need a sequel but there will probably be one anyway because money talks.
3. Freaky Friday
This film has a mother and daughter who are at odds that find themselves switching bodies on a Friday. As you'd think, they experience hi-jinks with the mother trying to navigate high school and the daughter trying to navigate a career and impending marriage. Walking in each other's shoes helps them understand each other. Life can be challenging for a mother but a teenager's one can be just as hard as for a teenager it is really easy to feel like it's the end of the world. Lindsay Lohan and Jamie Lee Curtis really make this, I genuinely don't think any other pair of actors could have made Freaky Friday as enjoyable as it is.
2. Holes
Disney made a film about young delinquents who are sent to a juvenile detention camp where the camp goers are required to dig holes everyday seemingly to build character and teach discipline. It sounds like something that could be dark, and there are parts that pretty dour, but this film is as fun as much as it is dramatic and the balances the two tones well. The film follows Stanley Yelnats who is sent to the camp, wrongly being accused of stealing shoes. He's thrust into a place far from home, that's intimidating at first but he finds a way to be accepted also develops a heartwarming friendship with outcast Zero. Young adult films are being made a lot these days, but they have a lot to look up to in Holes which portrays youngsters trying to overthrow corrupted adults with nothing but their wits and shovels.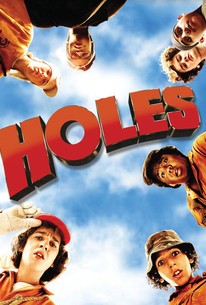 1. The Princess Diaries
This film has a special place in my heart. It's the lowest rated in this list by critics. I don't understand why. As a teenager watching Julie Andrews tell a frizzy haired Anne Hathaway that she's a princess was a significant moment of history. The dorky main character Mia is revealed to be first in line to the throne of some European country and this makes her freak out. Her grandmother Clarisse teaches her the way of being a proper princess and it's endearing to watch Mia clumsily prepare herself for the monarchy and endure high school filled with jerks which include the voice of Sid from Toy Story and the voice of Rapunzel from Tangled (fun fact!). The more times I watch Princess Diaries, it always me feel better at times when I'm down. Yeah, the power of nostalgia, but this film has a charm that elevates it.